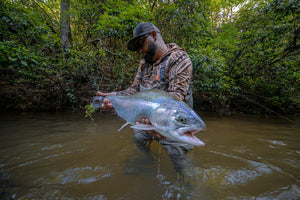 Cabin Fever - May 2020
For the past three years, my wife and I have always made a road trip up to North Georgia for her birthday. But with the outbreak of Covid19, our annual trip wasn't even on our minds. Every day life has changed. I have found that fishing is a great way to stay entertained while distancing ourselves from others; however, with all boat ramps in South Florida being closed, it's been hard to get out on the water. I have found myself fishing the lake behind our condo complex, as well as fishing canals around Miami for tarpon and peacock bass. But with her birthday approaching, we found ourselves on AirBnB looking at cabins, however they were not available due to Covid19 Closures in the state of Georgia. But a few hours later, we got an alert from AirBnB stating that the state of Georgia will be opening in a few days. So, we started to think about it, should we book the trip? We landed on Mother's Day weekend, a few weeks after her actual birthday, but we figured we can bring both of our mother's up to celebrate in the mountains. 
[Railway Bridge, across the Toccoa River]
So I made a few calls to various friends who guide up in that region and they were all booked, but then Jacob Brewster hit me up that he actually had a cancellation and invited me to come fish with him at one of my favorite spots, Rivers Edge on the Soque. So we rented a minivan, loaded it up and hit the road. 
[Restroom Break, Somewhere in South Georgia]
After a 10 hour drive, we made it to Blue Ridge. A quick pit stop at Cohutta Fly Fishing to grab some essentials and stock up on trout flies, then off we were to the cabin. There was a creek behind the cabin, I was hoping to find some trout in, but that wasn't the case. I did catch a couple Warpaint Shiners, but no trout. 
So the following day, we drove across the ridge to link up with Jake in Clarkesville. Along the way, we spotted a bear crossing the road.
We stopped in Helen for lunch, then met up with Brewster around 2pm. Got suited up and hit the river, after a few minutes I was hooked up to a good fish, but it came unbuttoned. No worries, a few more drifts later and fish on!
The whole time leading up to the trip, I was telling Jake I wanted a brown, he said they've had a little luck, but that our best bet would be the afternoon. So after just a few minutes of being in the river, I caught a nice little hook jaw brown. 
Then it was Mia's turn, after hooking up a couple times and losing the fish, she was able to get a one to hand. It wasn't very big, but a nice one to get things going. 
After that, it was fish after fish for the next couple hours. Doubled up a few times. 
Mia got into a nice one and got this one to hand, her largest trout to date. 
Then Jake got into a big nasty brown, but it ended up running way down stream across the next flat water and ended up coming off after he ran after it about 30 yards trying to keep up. 
All and all, we had a blast over at River's Edge on the Soque, Alex Harris is always a great host.
Here are a few more photos from our trip. 
[Mercier Orchards]
We also went on a short hike to Sea Creek Falls, over near Suches Ga. Here are a few pics from that.
[Sea Creek Falls near Suches GA]
We had a blast, and are happy we were able to make our annual trip, just a few weeks later than normal. Hope to make another trip up this Fall to target some big wild browns. 
Until next time!
-Eric Estrada
---