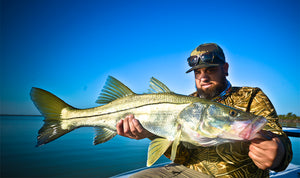 Everglades Morning
I made it out to the park with my buddy Damian a couple days ago to fish a few hours. We spent the morning fishing the glades, the snook bite has been great. Only managed to get one good one to hand, cause they cut through the 25lb tippet with ease. But they were in schools crushing mullet, mixed in with some good sized jacks. Damian hooked one right near the skiff, and thought it was a jack, so he tried horsing it in. The fish came up, turned and broke off the leader to show that it was a huge snook. 
Damian did manage to catch a nice sized jack crevalle.
Get your Jacked Up print in the Buy Artwork Section!
I will be working on a new snook print and putting it up on the site, since "On the Sidelines" sold out pretty quickly. 
Until next time....
-Eric
---