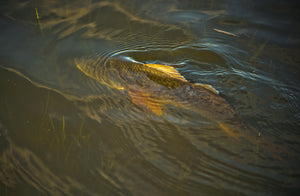 Going Coastal! Flood Tide Trip Part 1
Last September, Ty and I made a quick pit stop in Charleston to fish with our buddy Ryan Rice of Clutch Fly Rods. We only got about an hour worth of fishing in before getting chased off the water by a storm, so we were itchin' to get back out there. So I made plans with another buddy Carey Furman to come up after ICAST and fish the flood tides for a few days. 
So off we were, my friends Ty, Damian and myself; northbound on 95. I made a Facebook post looking to get out and fish the afternoon somewhere near Jacksonville Florida, an unknown Facebook friend Chris Webber replied with an invite, so we agreed to meet him. We didn't really know what to expect, none of us had ever been to Fernandina Beach, and we were meeting a stranger in a parking lot and hitting the bay. Turned out, Chris was a super cool dude and fit right into our group. He didn't hesitate to give me crap about forgetting to fuel up the skiff when I realized the skiff was on E when we arrived at the boat launch. 
We FINALLY made it to the gas station and back out to the water. Immediately, we spotted a pod of triple tail blowing up on the surface. Ty hooked up and lost it after a short battle. Chris said he had only ever caught one triple tail inshore in his life of fishing the Low Country. We waited for the tide to flood, and when it did, the tails rose up. 
The tide came in a little later than expected, so we only managed to get a short session in. Ty got the first fish in the skiff and I followed up immediately. 
Damian and I switched up and like clockwork, he got a fish in the skiff, while Ty had another red on as well. We managed to boat about 7 or 8 reds in quick order. 
I just picked up a new lens (Nikkor 105mm) that I wanted to try out. 
Our first trip to fish Florida floods was a success! Or so we thought! 
To be continued!!!!
---