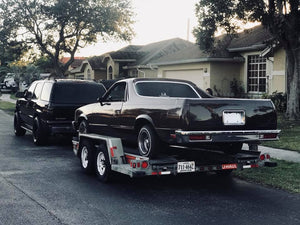 Sunday Drive: Vol 2 - The EL Camino Project
As you might remember, almost exactly a month ago, I posted an EL Camino sketch. I have been searching all the classifieds, driving around neighborhoods trying to find the one. It's funny that after checking out 6 or 7 of these in person, I ended up going back and purchasing the very first one I looked at when I first began my search. 
I picked up this 1980 EL Camino from an artist named Kevin Remillard. He actually builds badass custom guitars and has some pretty cool rat rods. The EL Camino is a little rough here and there, but nothing too difficult to address. After all, I did own a body shop when I was 19 years old. This week I am focusing on minor things like tuning the motor, going through all the wiring and making sure everything is in perfect working order. Once that's all taken care of, I will begin getting the body ready for paint. Going to need to do a little bit of metal work but I am excited to break out the old metal working tools. 
Until next time,
Eric
---