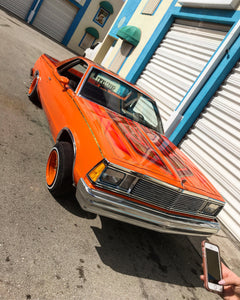 Sunday Drive Vol 3: On the Road
As some of you may remember, December 2017 I randomly drew an EL Camino for a new sketch series. I called the sketch series Sunday Drive. A few weeks after I drew the car, I decided to search the classifieds for an EL Camino project car that I can bring back to life. The process took about a month or so, but I finally managed to find one and snatch it off the market. It was a long 12 months after that, grinding, welding, long block sanding, throwing down tape lines and kandy paint, but I finally got it done. Almost a year to the day that I purchased the car, the EL Camino was ready for its maiden voyage. A lot of blood sweat and tears went into this build with many hours put it between myself and a group of close friends. 
The Drawing that Started it all!
First week into it.... Car was sanded and primed with epoxy primer, before we began doing the bodywork. 
Finally, after months of metal work, bodywork, and long blocking, I got some color on it.  
Laying down the first graphics on the hood of the car.
Ripped the interior out, redid everything, finished up the paint job
Finally, Road ready, about to head out to the beach.
Made it to Virginia Key Beach for the 25th Riders Car Club Picnic. 
I'd like to thank everyone that helped along the way.
Jason, being there alongside me for countless hours working on everything. Chuck, Torta, Steven, Nate, and of course Mia. I couldn't have done it without y'all.
Until next time!
-Eric
---